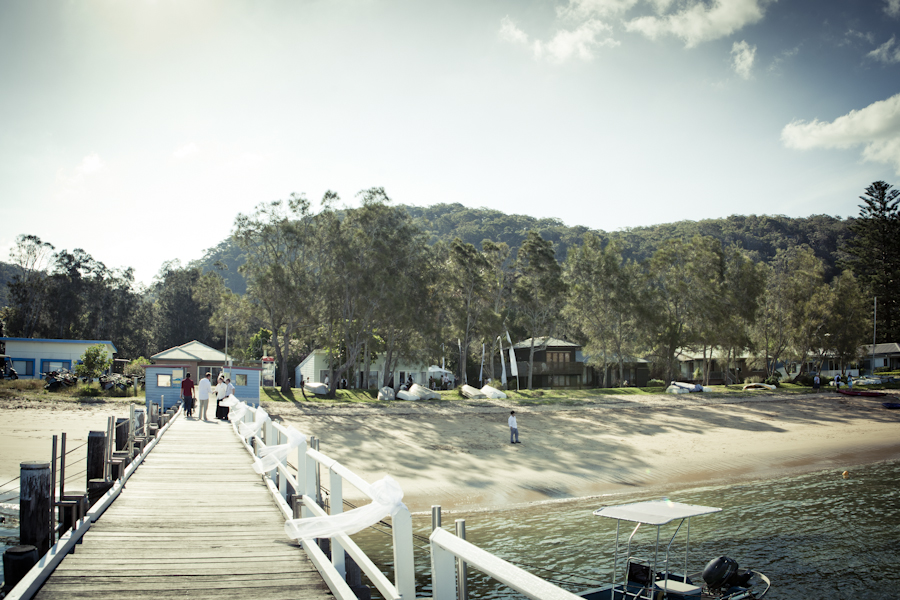 Secret spot on Pittwater River, no road, no train, no bus ! You have to catch a boat to reach this heaven. Thanks to make me to discover this place !
Ce mariage a été publié sur le blog de " la mariée aux pieds nus "
"When we started planning the wedding what was important to us was that it reflected the things we love and that everything had a connection to us. We wanted a relaxed, happy, joyful wedding that involved our family and friends.
We chose to have the wedding at Mackerel Beach on Pittwater as the area had so much meaning for us. For me it was the area where I had gone for Summer holidays with my family for many years as a child. I have wonderful memories of the trips across on the ferry and running around the beach. For Scott the area was the location for his family's beach holiday home and a place he spent so much time enjoying the peaceful, natural energy.
We chose Australian native flowers to match the area and kept the decorations and other elements simple so that the natural beauty of Mackerel Beach could shine.
The best moments of the day were the two Tibetan monks chanting and offering their blessings. Their chants resonated around Mackerel Beach and gave us an incredible feeling. Presenting each one of our family and friends with a Tibetan silk scarf (Khata) to share with them the happiness of the day. I will also never forget the feeling of holding Scott's hands and looking deep into his eyes during the ceremony.
It was a beautiful day and was exactly as we had hoped. I was amazed at how it felt to be surrounded by our family and friends as I married the man I love. It was the best day of my life.
All of these feelings were captured by Yann Audic our wonderful photographer. We looked hard to find someone we could trust and who understood that we wanted to capture the story and the emotion of the day. Yann did that perfectly. We felt immediately comfortable and at ease with Yann due to his gentle manner and we were inspired by his artistic skills and interesting, unique style of wedding photography. His gorgeous photos from the day each tell a part of our story and that of those we love. He captured the colours, the feeling, the place and the people through his ethereal, dreamy shots. We had a perfect day and found the perfect person to capture this special day." By Clare Thompson for "La Mariée aux Pieds Nus" / www.lamarieeauxpiedsnus.com