Nataly & Stuart, Weeding in Dubrovnik, CROATIA
Nataly & Stuart was obviously one of the highlight of this european summer season. When you are based in Paris, going to Croatia is always an excitement, how beautiful is this coastline seriously !
Nataly's parent are Croatian and going back there for the summer has always been a sweet childhood memory, she couldn't imagine organising her wedding somewhere else.
I hope you enjoy their beautiful wedding story as much as they did :
"Yann Audic from Lifestories Wedding Photography was simply amazing. I'd seen his work whilst researching Croatian wedding venues, as he'd covered an amazing wedding on the island of Vis. I thought his work was stunning and what we liked most was that he captured natural moments rather than everything looking too staged and cheesy. I liaised with Yann over Skype and email and met him the day before the wedding.
He was fantastic to have around on the day and dealt with some challenging situations (and people!) incredibly well. And the photos themselves were wonderful."
Wedding Photographer : Lifestories Wedding
Wedding Planner : http://www.dubrovnikevent.com
bride dress : Inbal Dror http://www.inbaldror.co.il/en
Suits : Whitfield and Ward http://www.whitfieldandward.co.uk/
Rings : De Beers http://www.debeers.co.uk
Sponza Palace (ceremony), Karaka (boat for drinks receptions) Konavoski Dvori (reception) – Dubrovnik, Croatia.
Nataly & Stuart wedding in Dubrovnik has been featured on the Great UK blog Love My Dress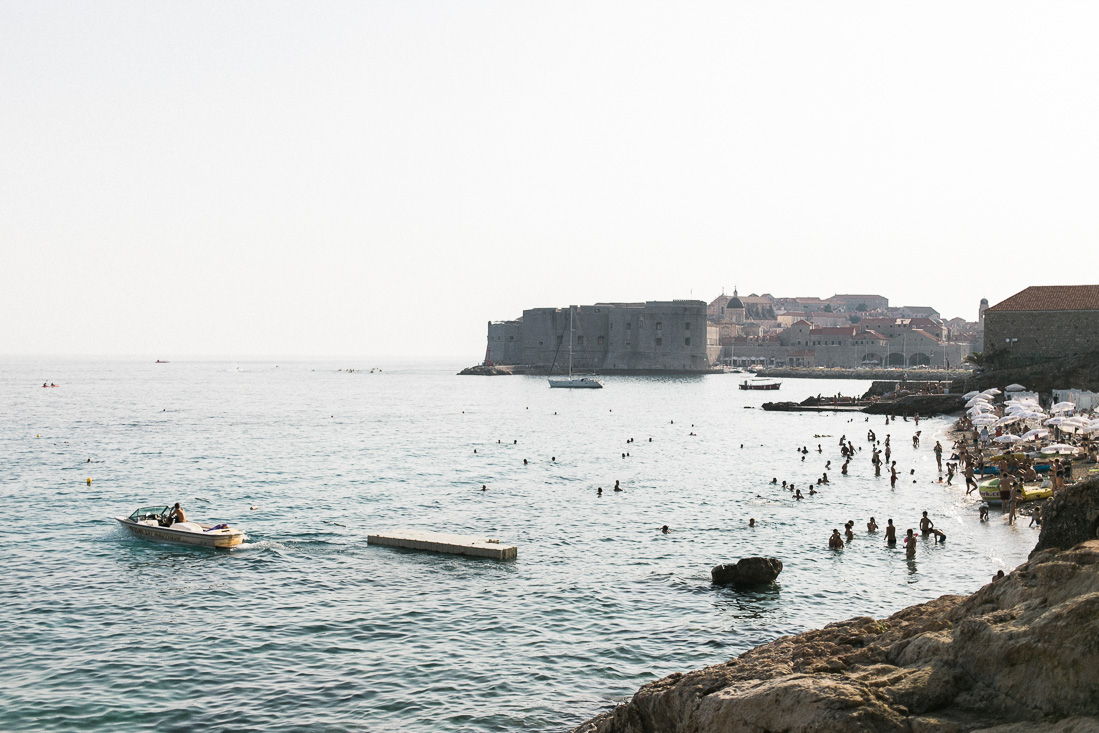 What the bride said
" When I was living in the UK, I had grand plans of trekking across the channel every weekend to discover a new city in Europe. Cue reality and the high costs associated with this intention and my travels were limited to weekends every now and then. But when I did head over the seas, I truly made the most of my short time in each location; soaking up the vibrant culture, tasting local delicacies, and falling in love (with the scenery, not the fellas. OK, maybe one or two Danish chaps in my pre-husband days!). One place on my list I desperately wanted to visit was Croatia, so you can imagine my delight when I saw these utterly beautiful pictures by Lifestories Wedding Photography.
Nataly and Stuart, who are both management consultants, tied the knot on 11th July 2015 for their destination wedding in Dubrovnik, Croatia – a place Nataly used to frequent on holidays with her family. The couple's ceremony was held in The Sponza Palace, a spectacularly grand Gothic-Renaissance design, then all hopped aboard a traditional Karaka boat for the drinks reception, before arriving at Konavoski Dvori for their reception, set against the picturesque backdrop of a bubbling brook.
"We were inspired by a Midsummer Night's Dream, mostly due to the reception setting which was in a forest by a river. We are both bookworms too and Stuart likes Shakespeare. Other than that, we just embraced the elegance and beauty of our surroundings so went with simple, pale colours and décor."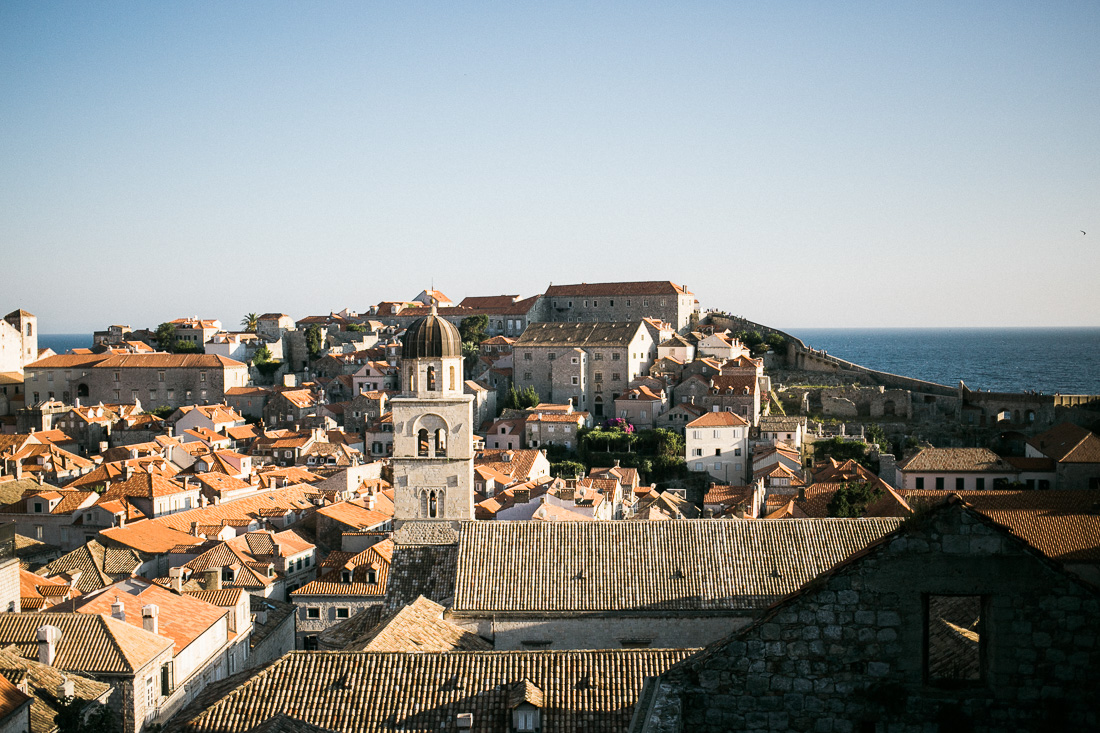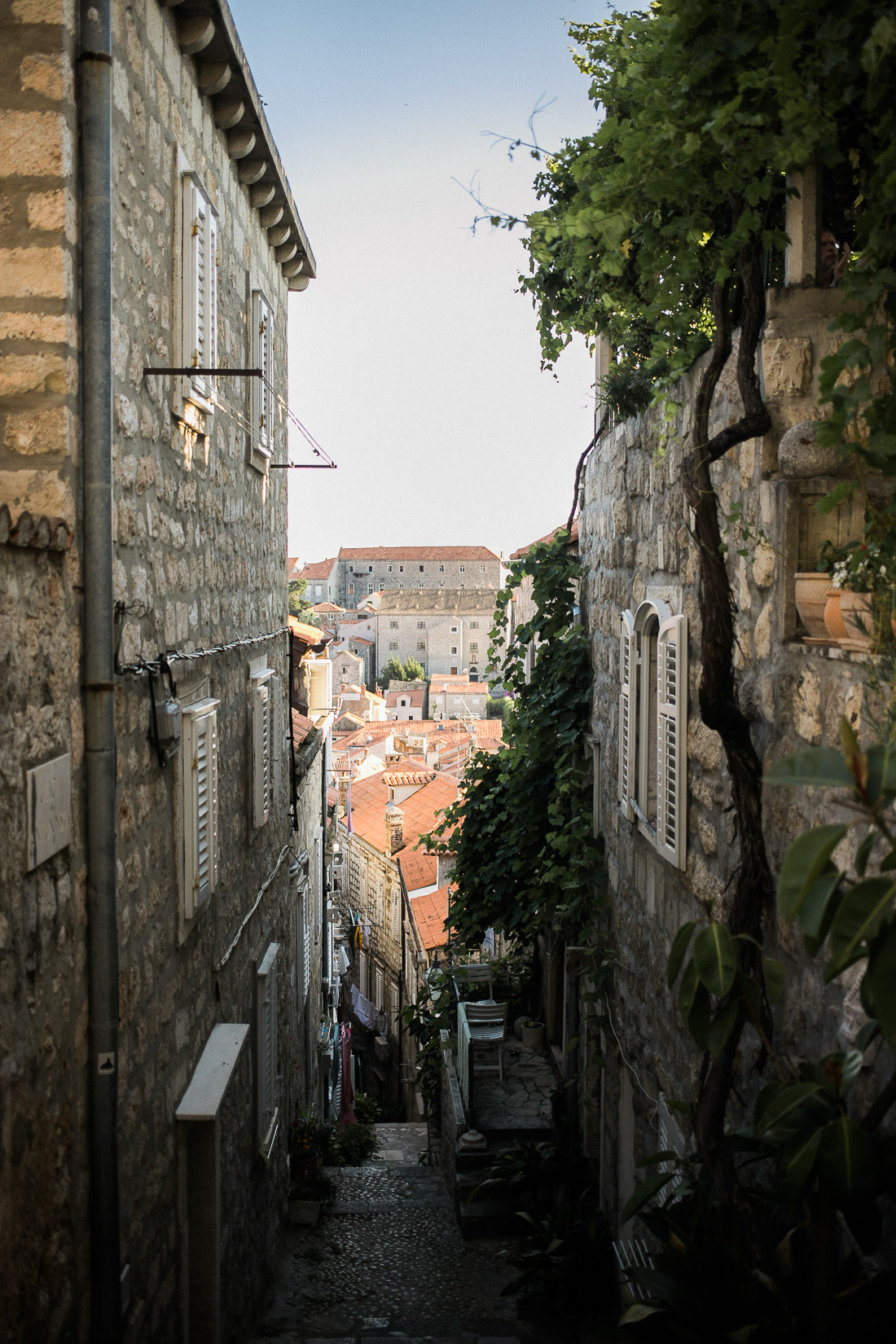 "I am lucky enough to have a friend who works for De Beers. She recommended we come in to take a look at a few options (Stuart had borrowed a ring from his mum to propose as he didn't have a clue what I'd like and neither did I!). We went to take a look together and selected a cushion cut aura for the engagement ring with a matching diamond band. We liked the retro design and the craftsmanship was excellent. Stuart chose a bevelled ring from there too."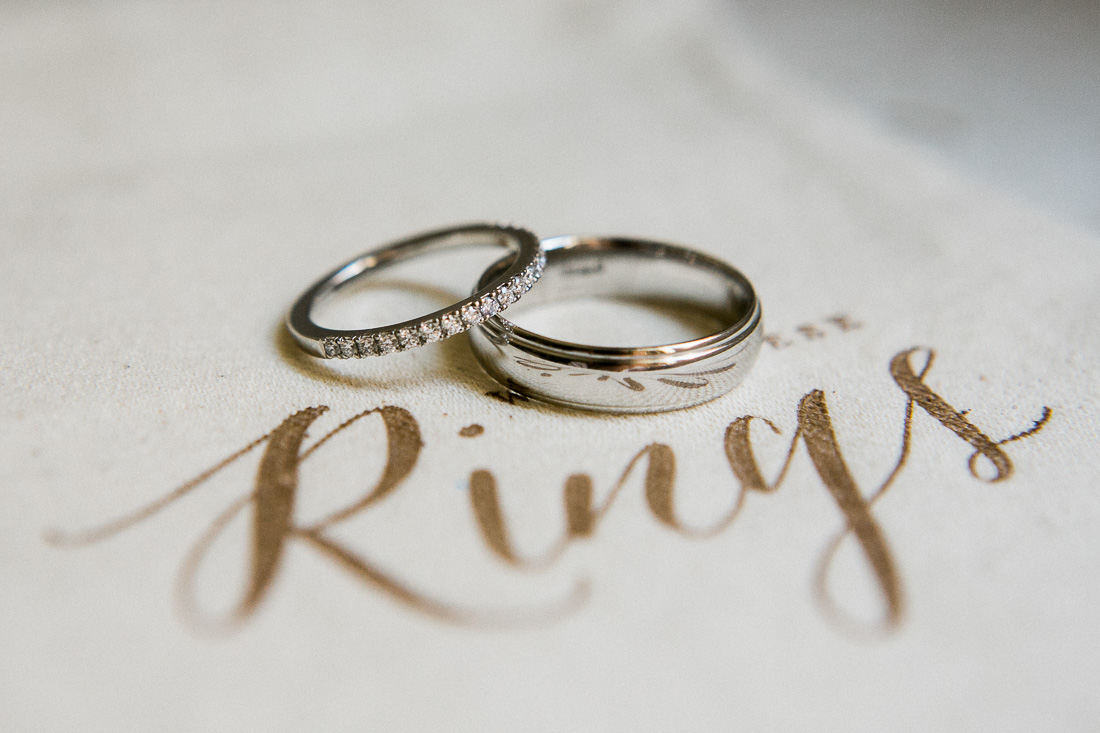 Nataly's Inbal Dror gown, with its fitted silhouette, sheer panels on long-sleeves, low back, and intricate beading is utterly exquisite and rendered me totally speechless. The dress was made to measure from the Tel Aviv showroom.
"The four maids wore gowns by Adrianna Papell from House of Fraser. They looked absolutely beautiful – the perfect dresses for my perfect stunning bridesmaids."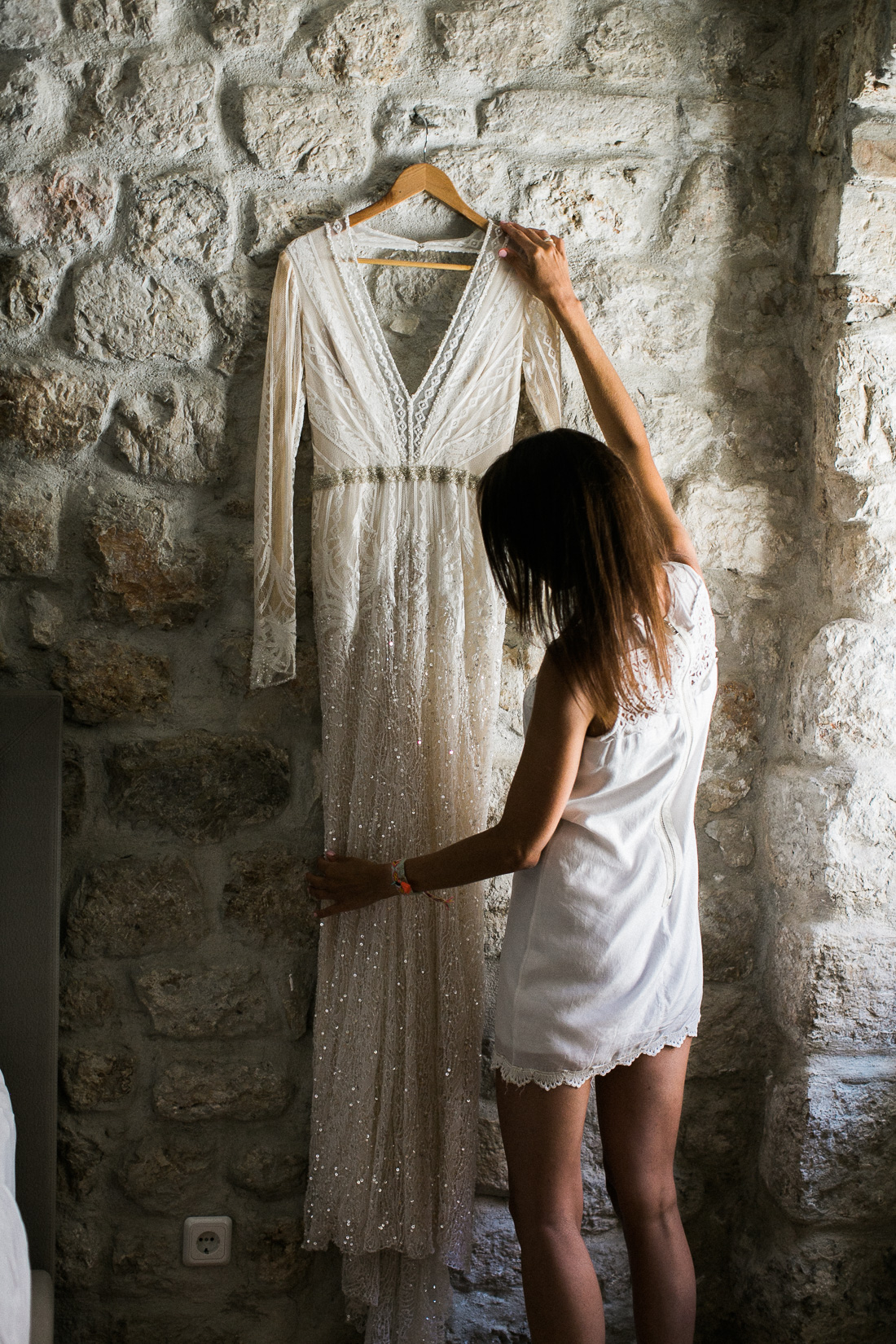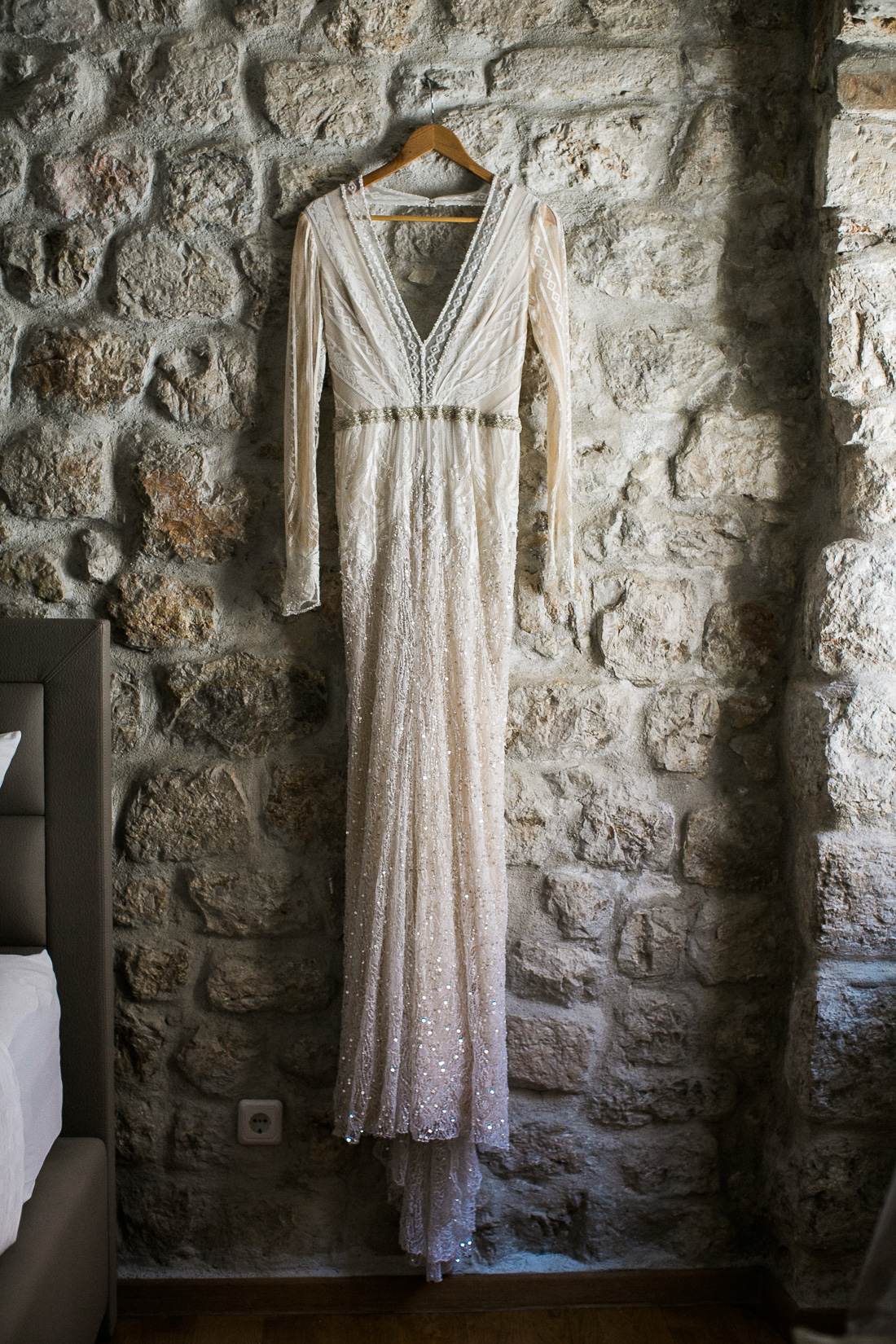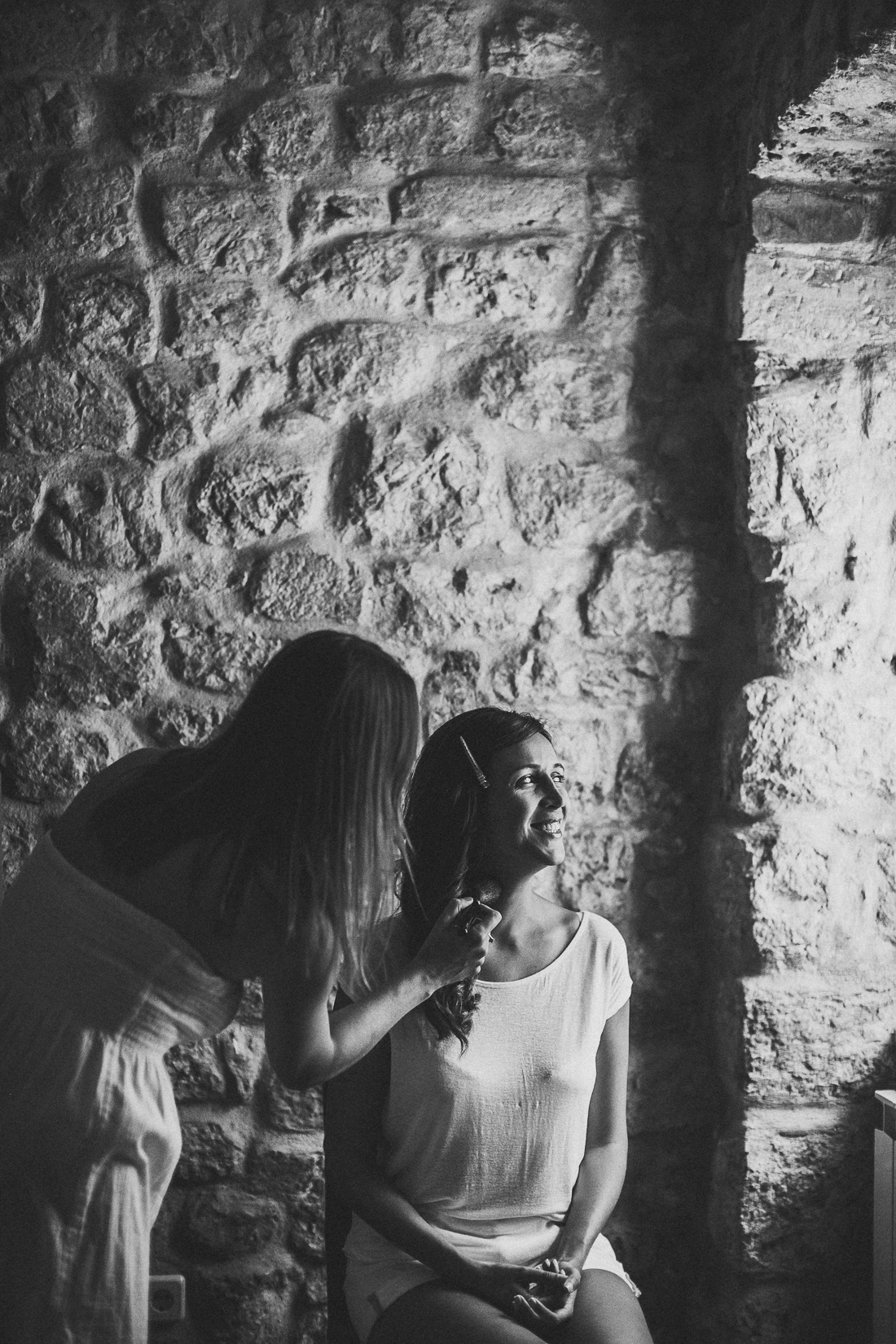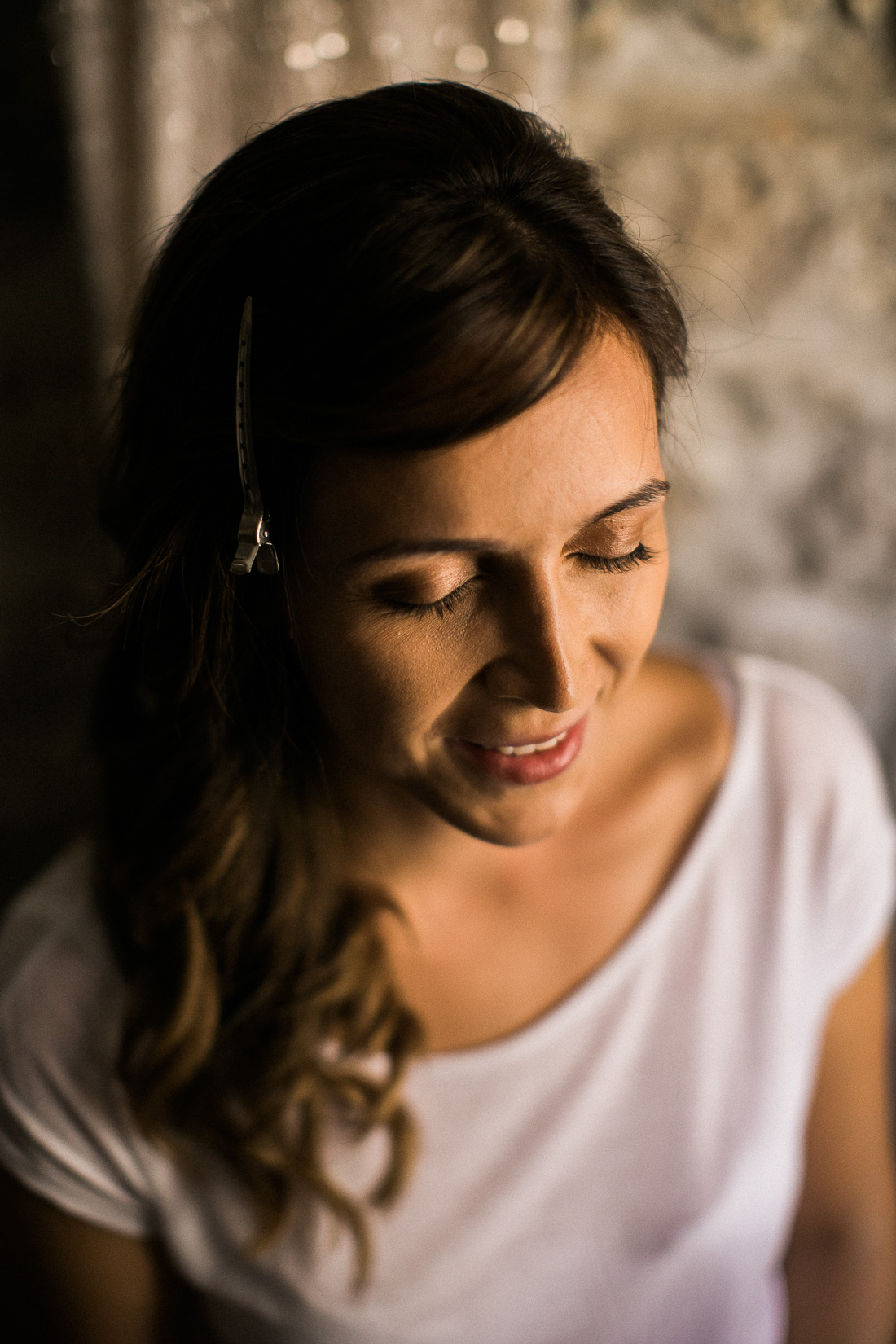 "The first thing I noticed was how light and comfortable my Inbal Dror dress was. I definitely didn't have 'the one' moment at the time, but as soon as I tried my made to measure one on, and on the wedding day, I knew it was the perfect dress for me. I honestly don't know how I didn't see it was 'the one', but you are surrounded with so many beautiful options, it does become quite hard!"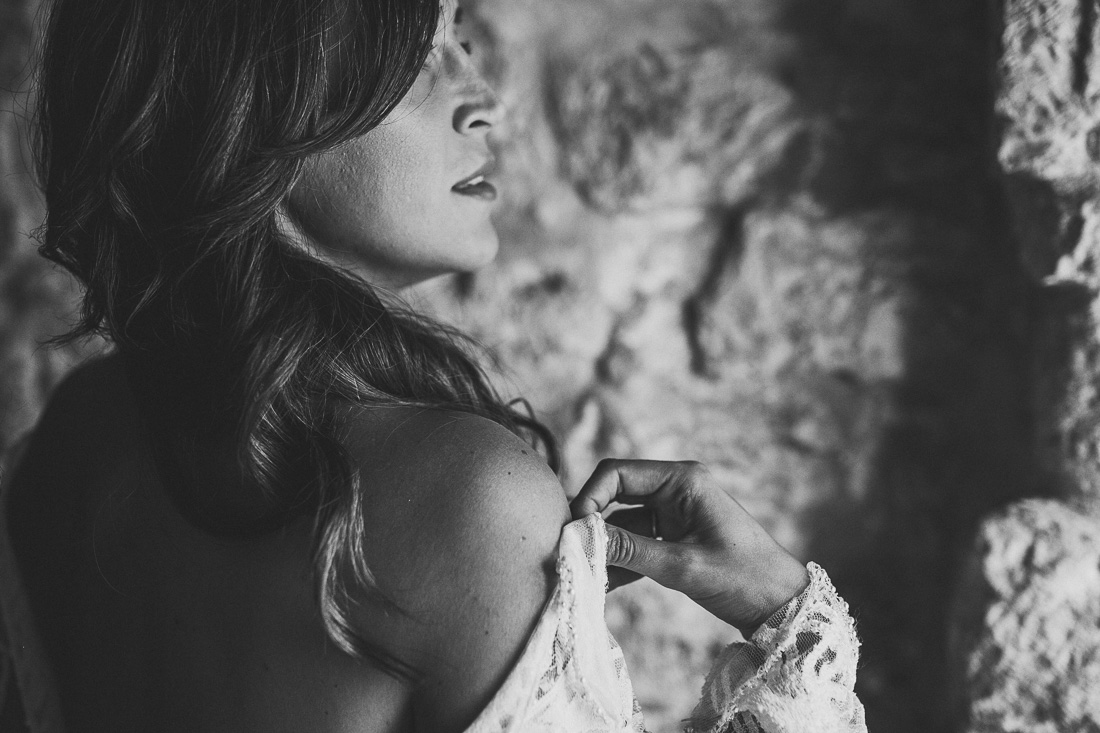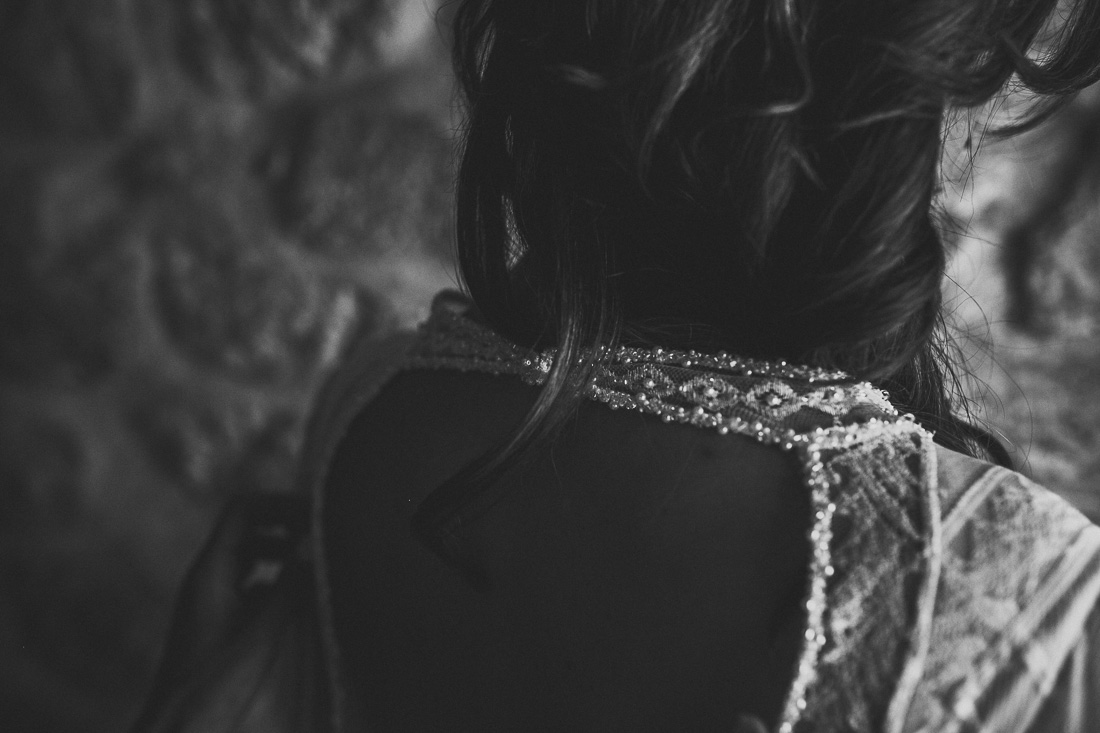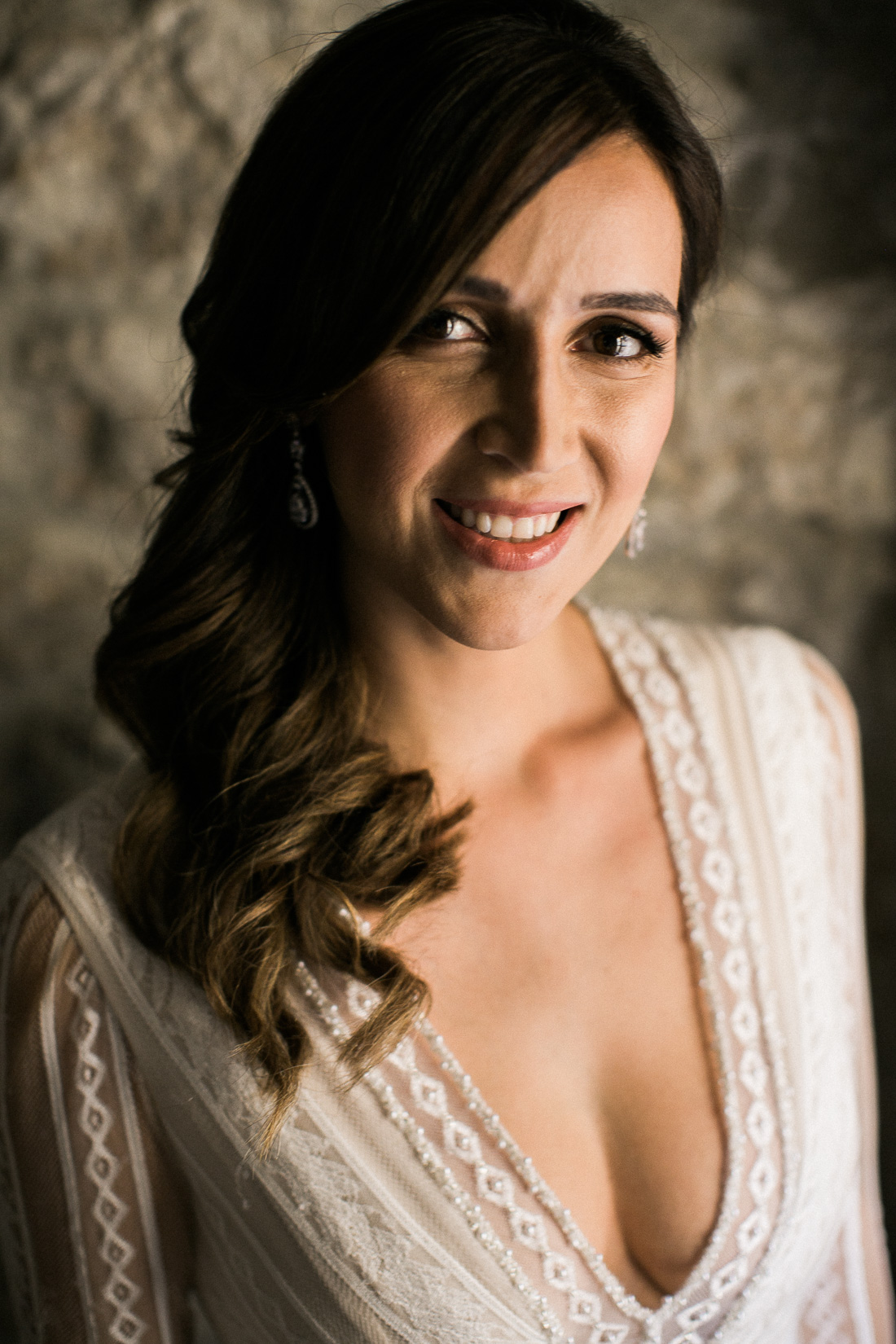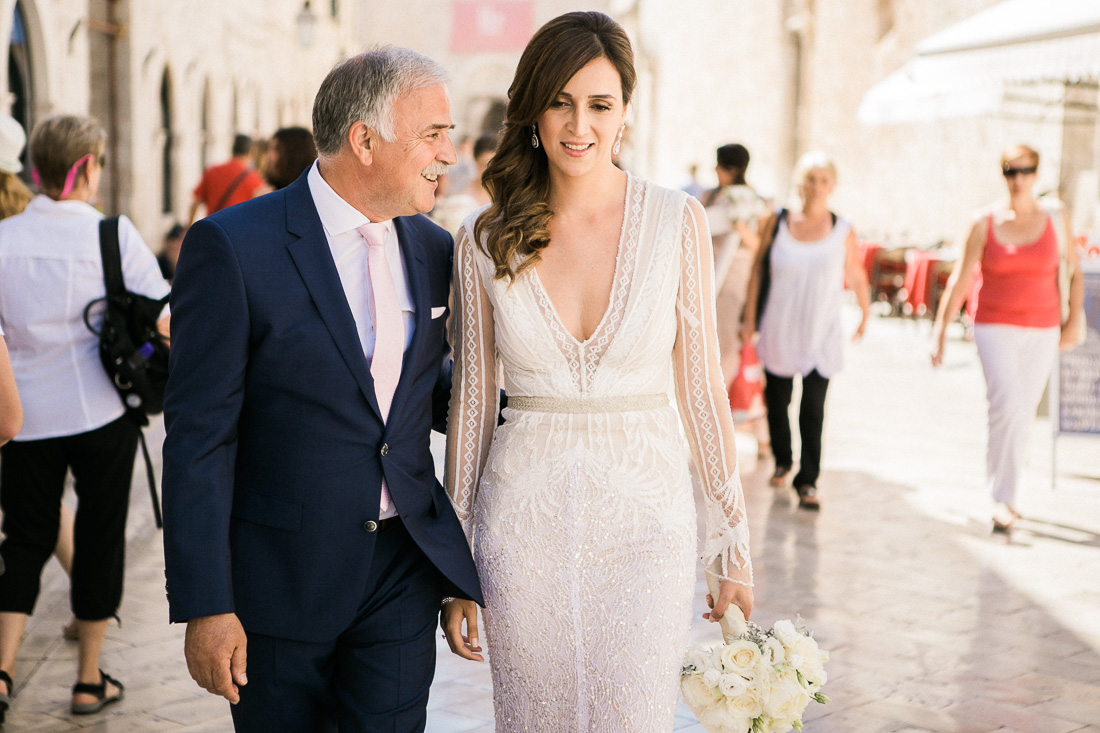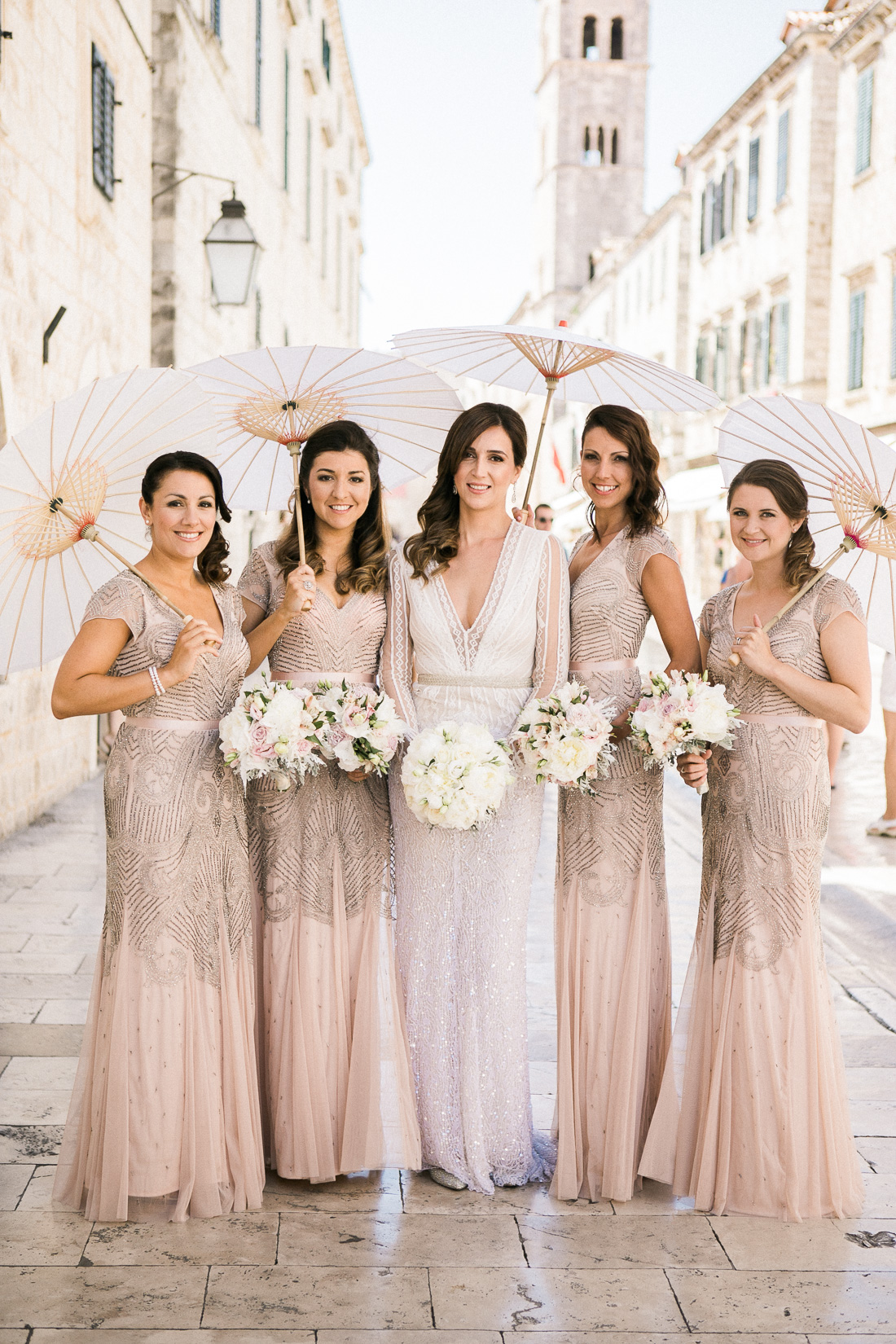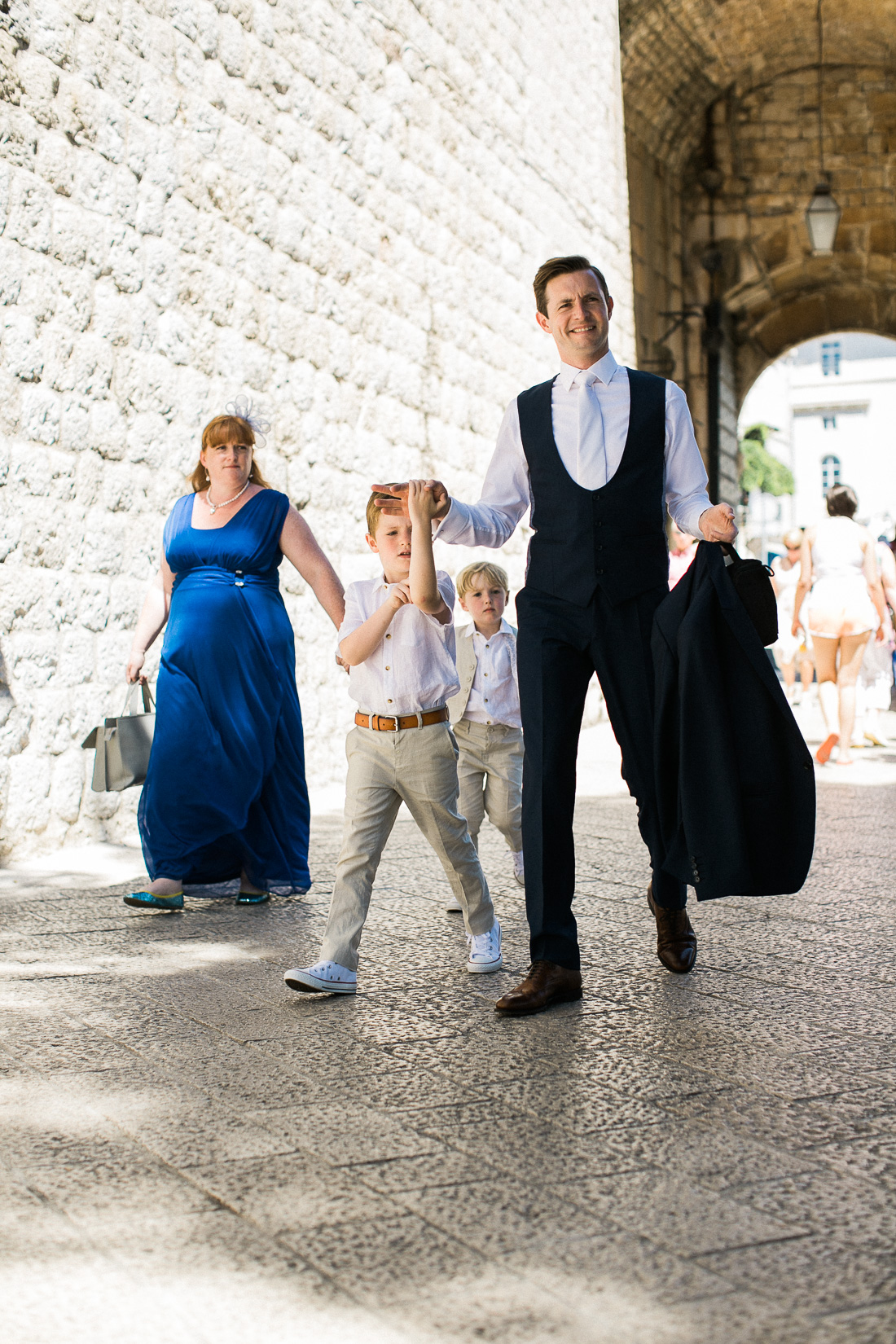 The groomsmen wore various suits, with matching ties and pocket squares from Reiss, whilst Stuart's fine attire came from Whitfield and Ward in Wilmslow, with the addition of a pair of groovy shoes from Church's.
"His shoes were the most extravagant purchase Stuart made for the wedding, but he loves them!"
All the little helpers dressed up for their part in Nataly and Stuart's big day, looking very dapper in outfits by John Lewis. How cute are the little blue bowties for the boys?
"My brother chose my niece's dress – with Converse to match. And finding the pageboys attire was one of Stuart's key jobs and he did well. They all looked gorgeous and were so wonderful at escorting the lovely bridesmaids down the aisle!"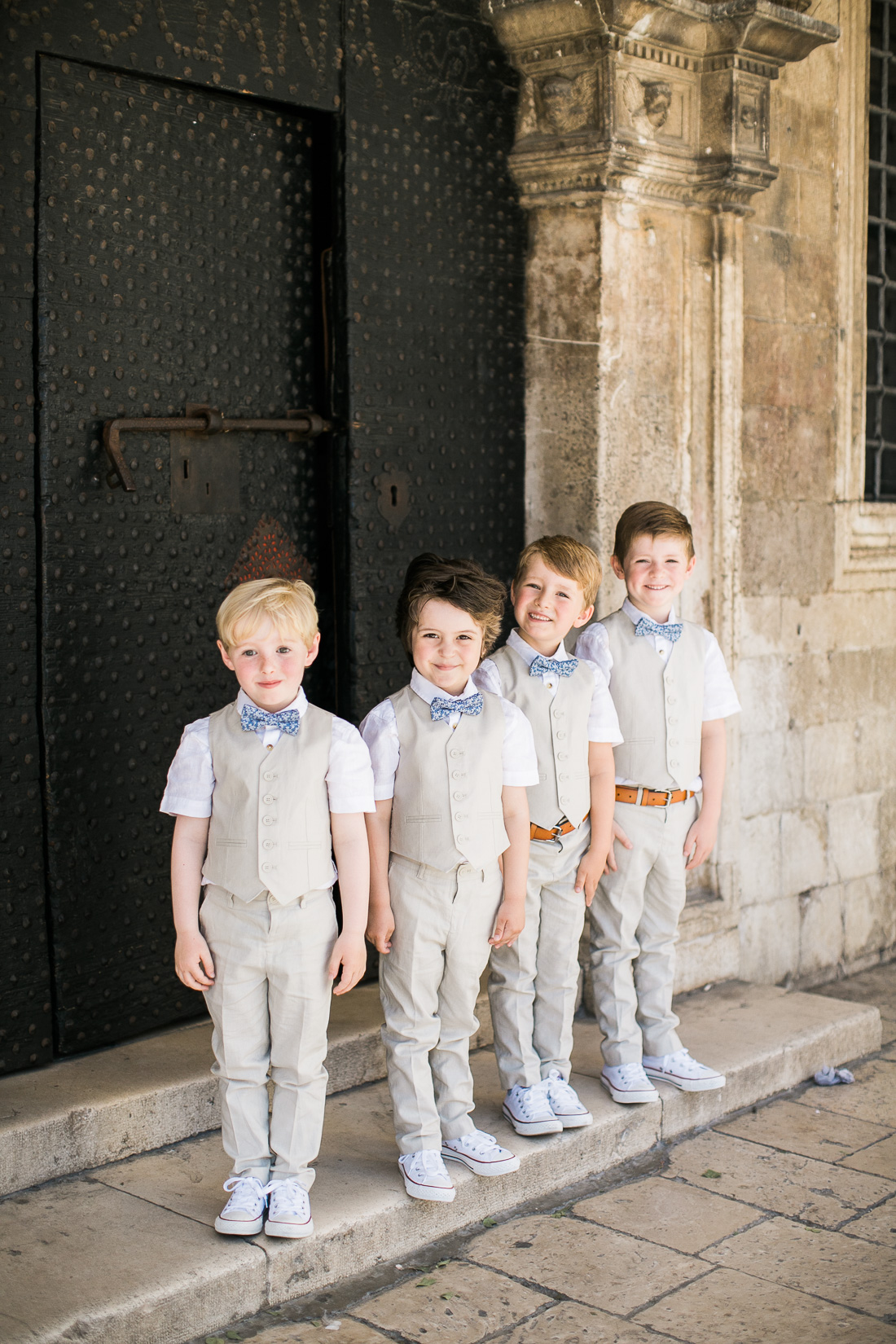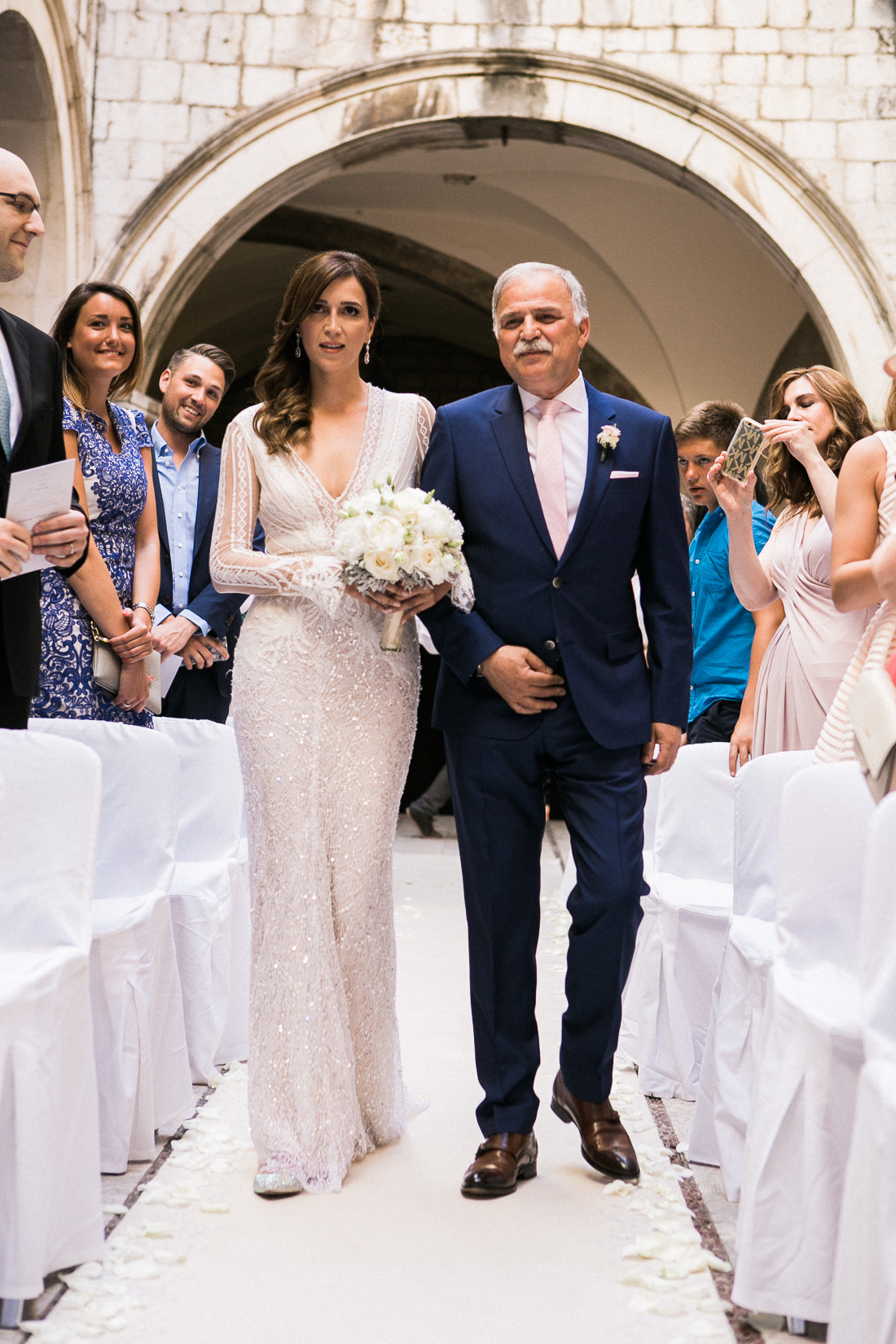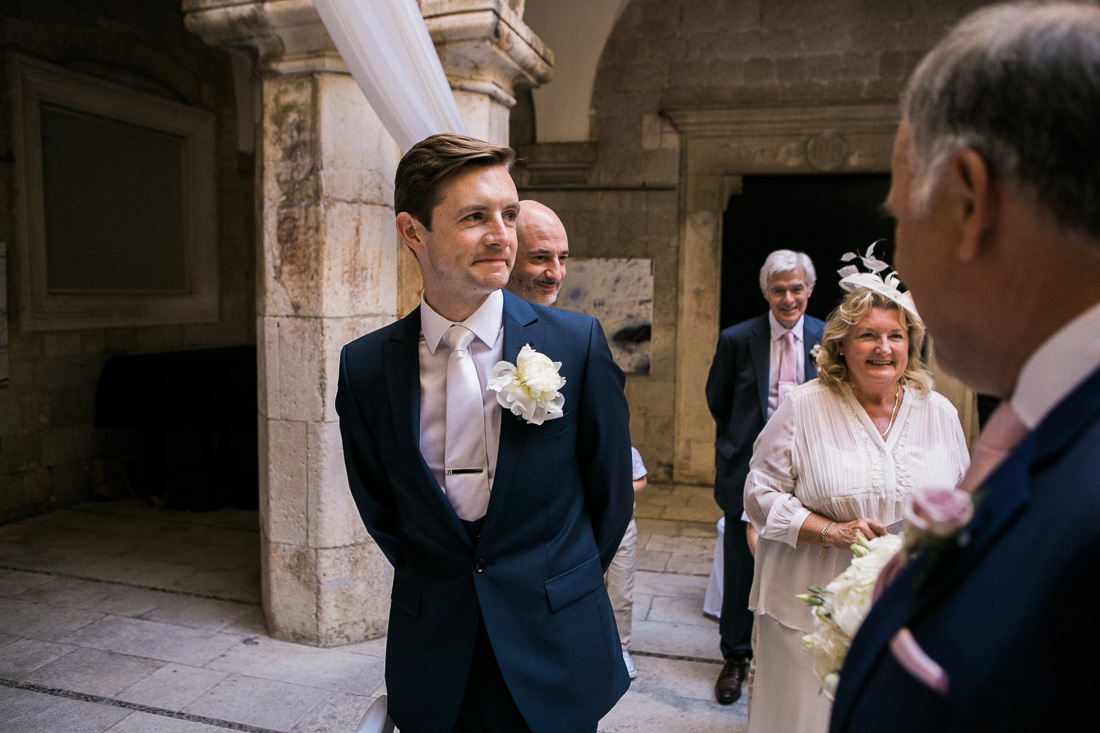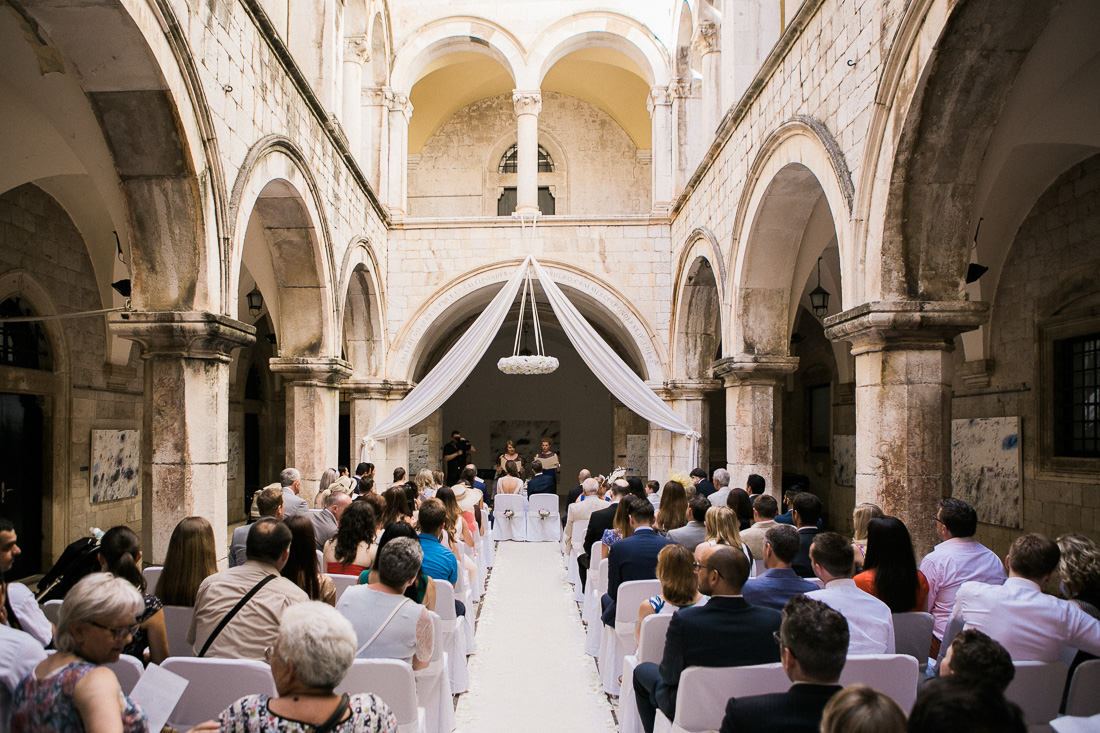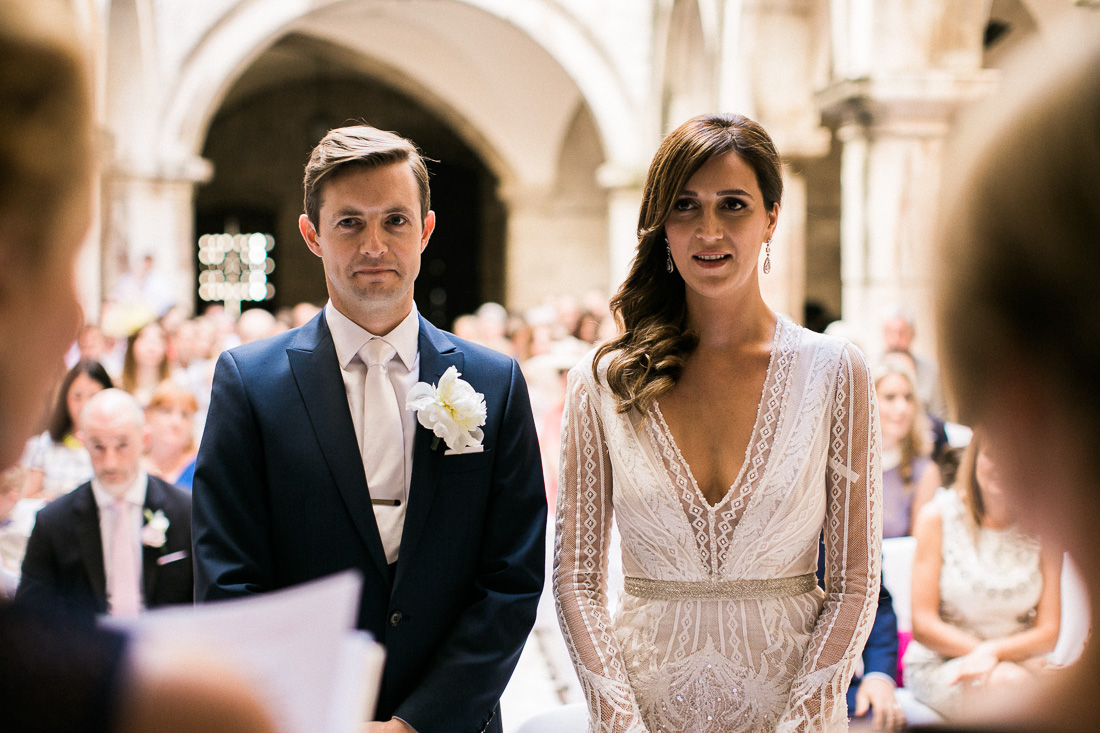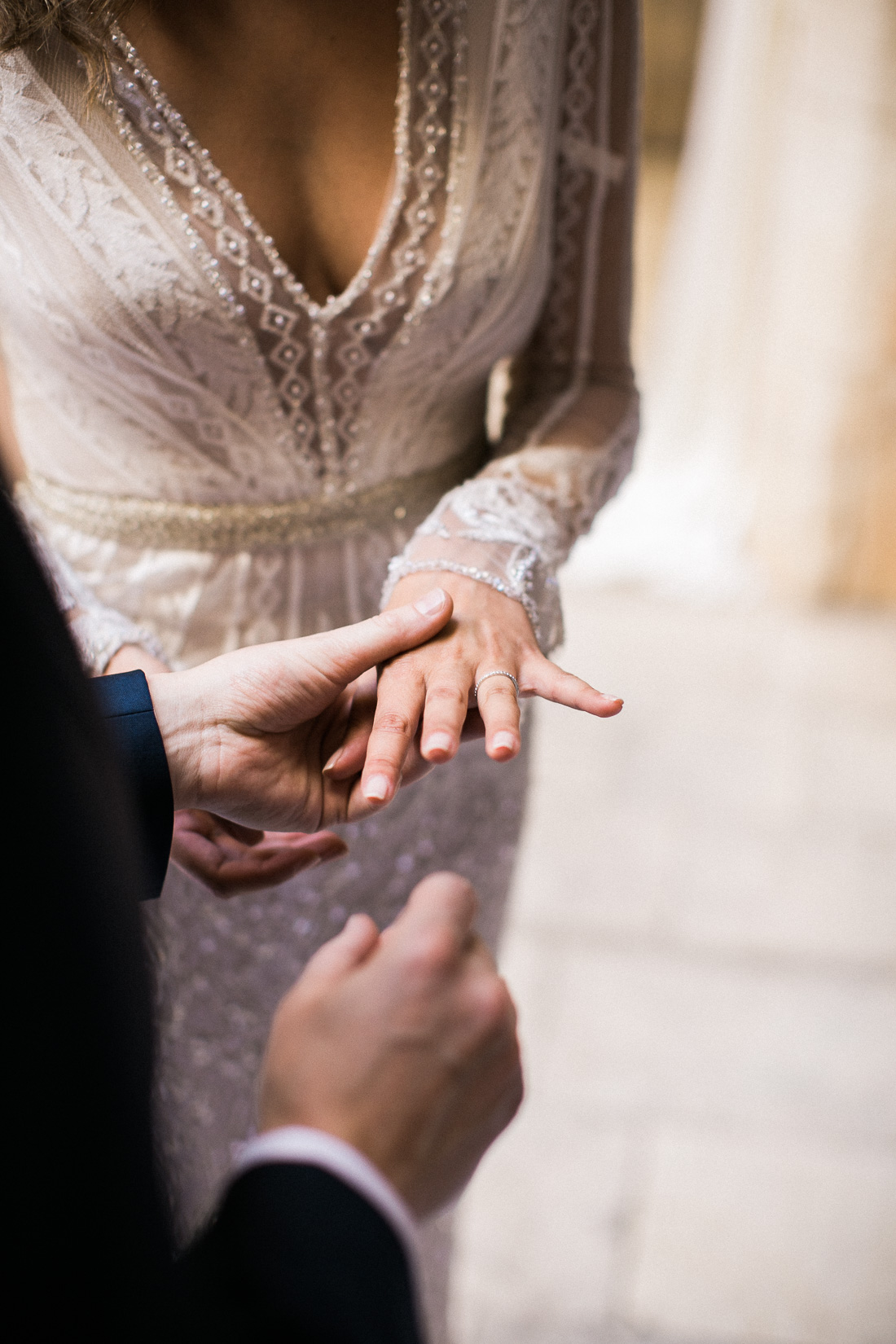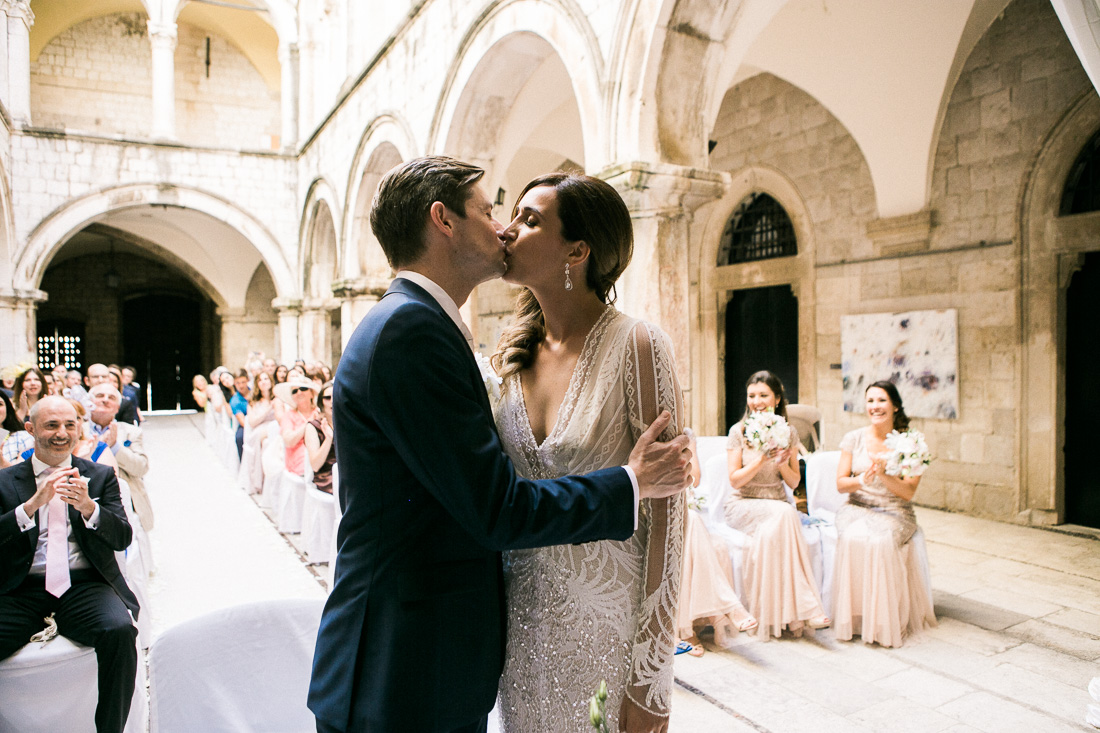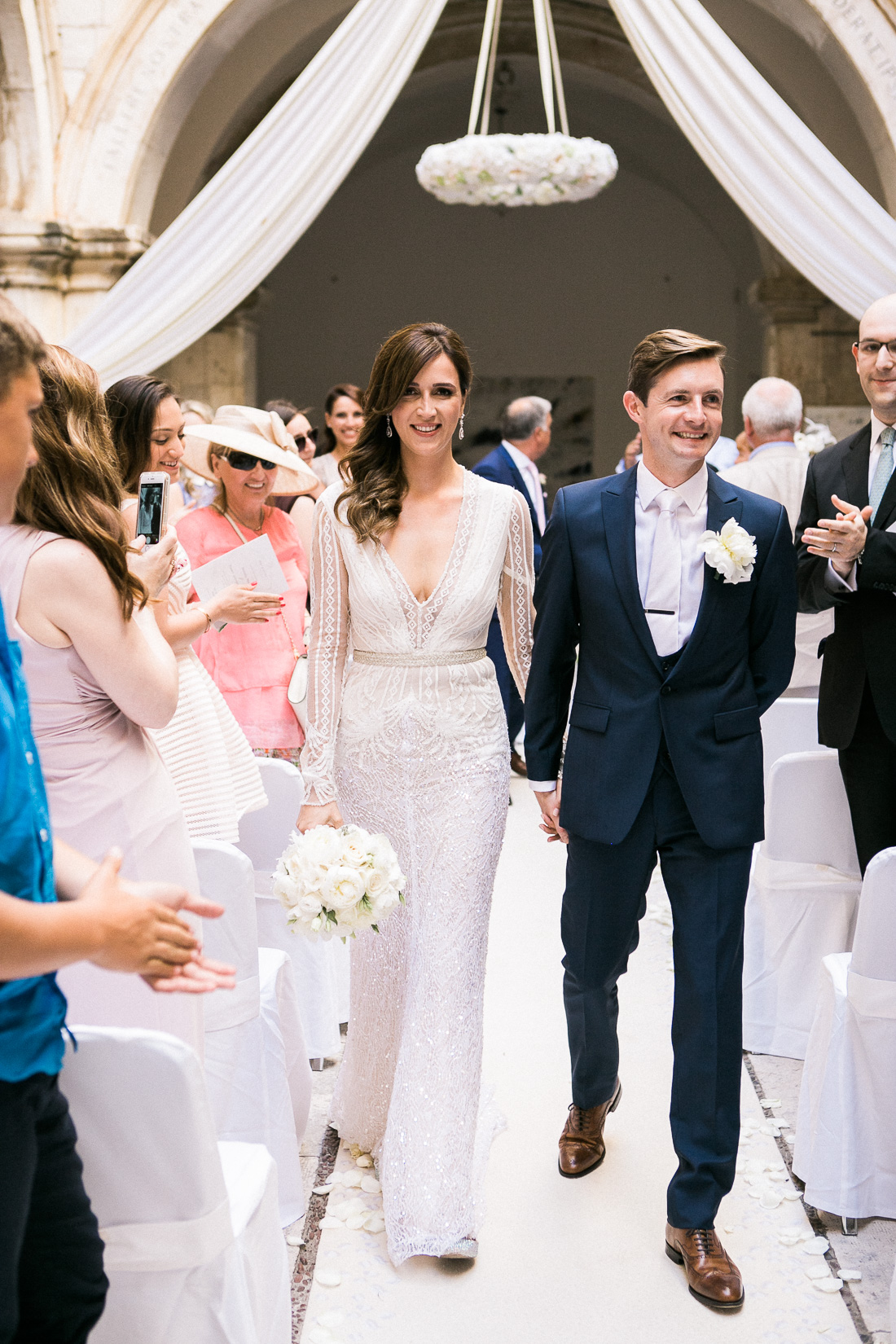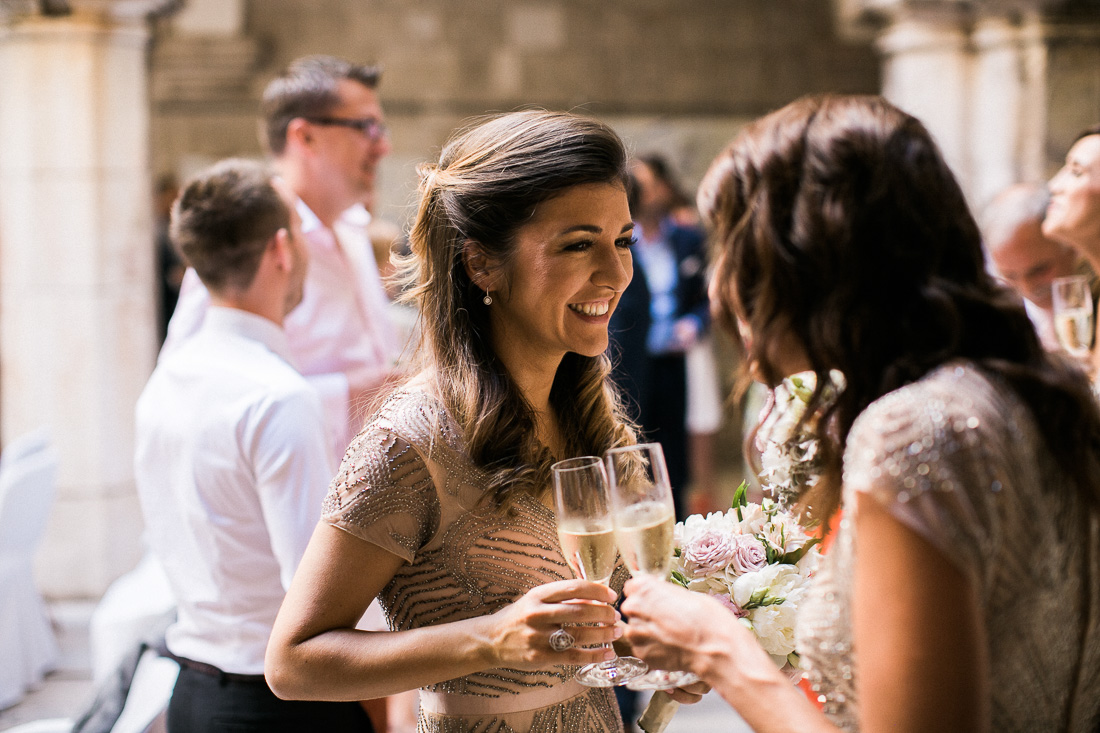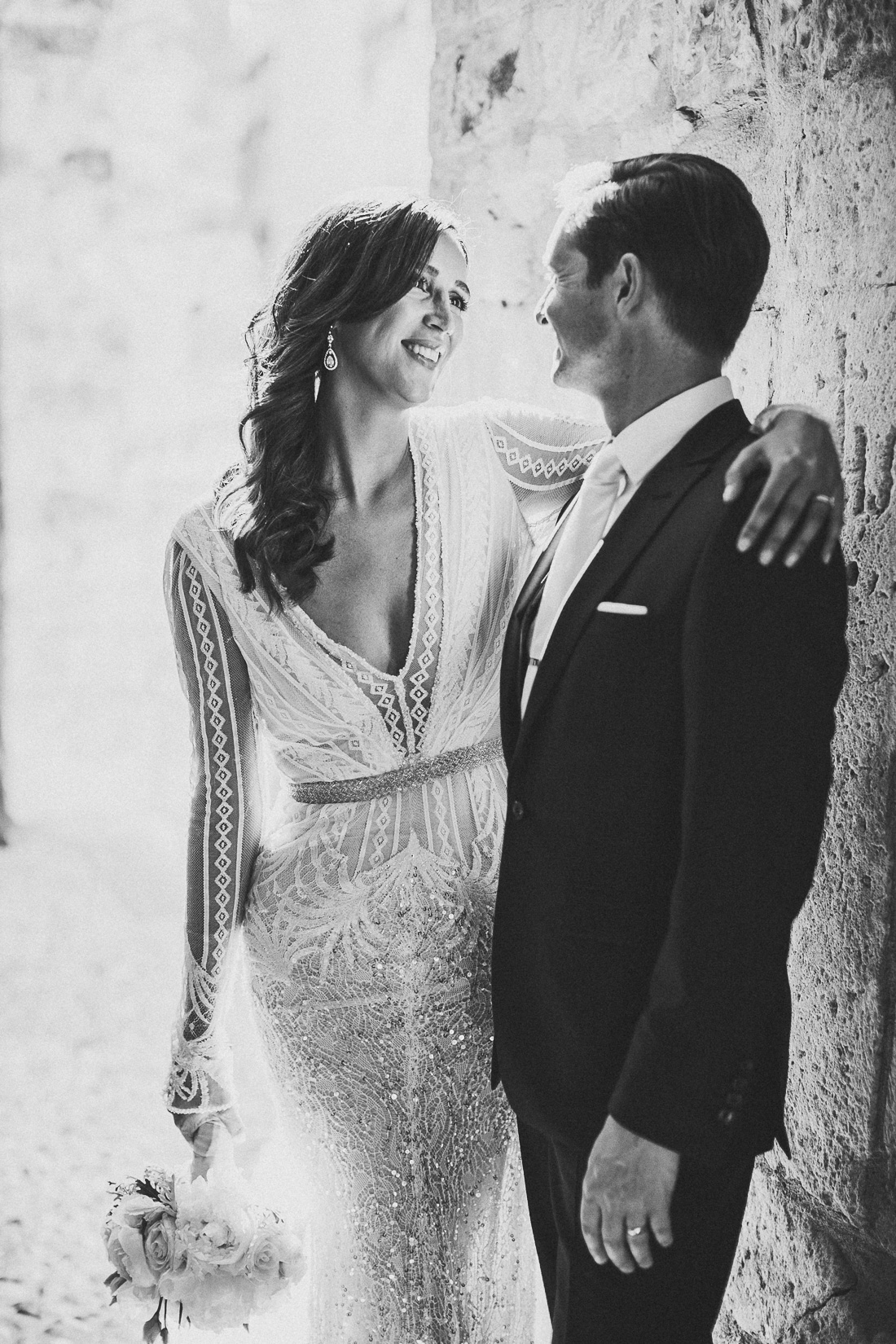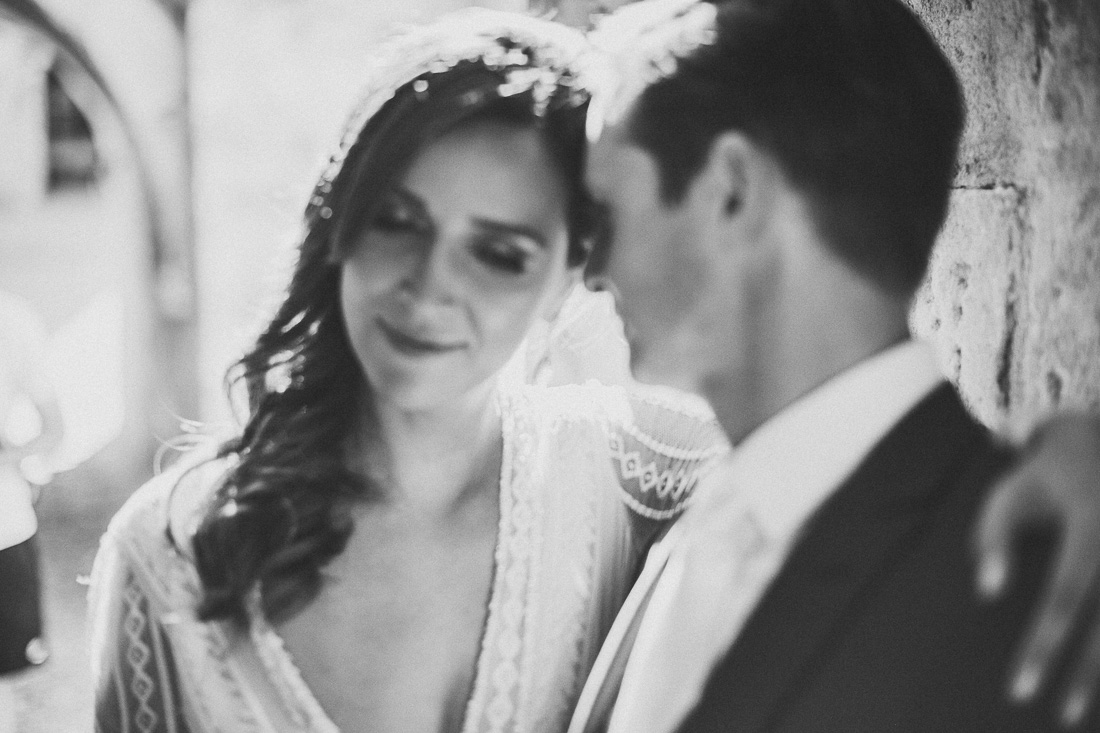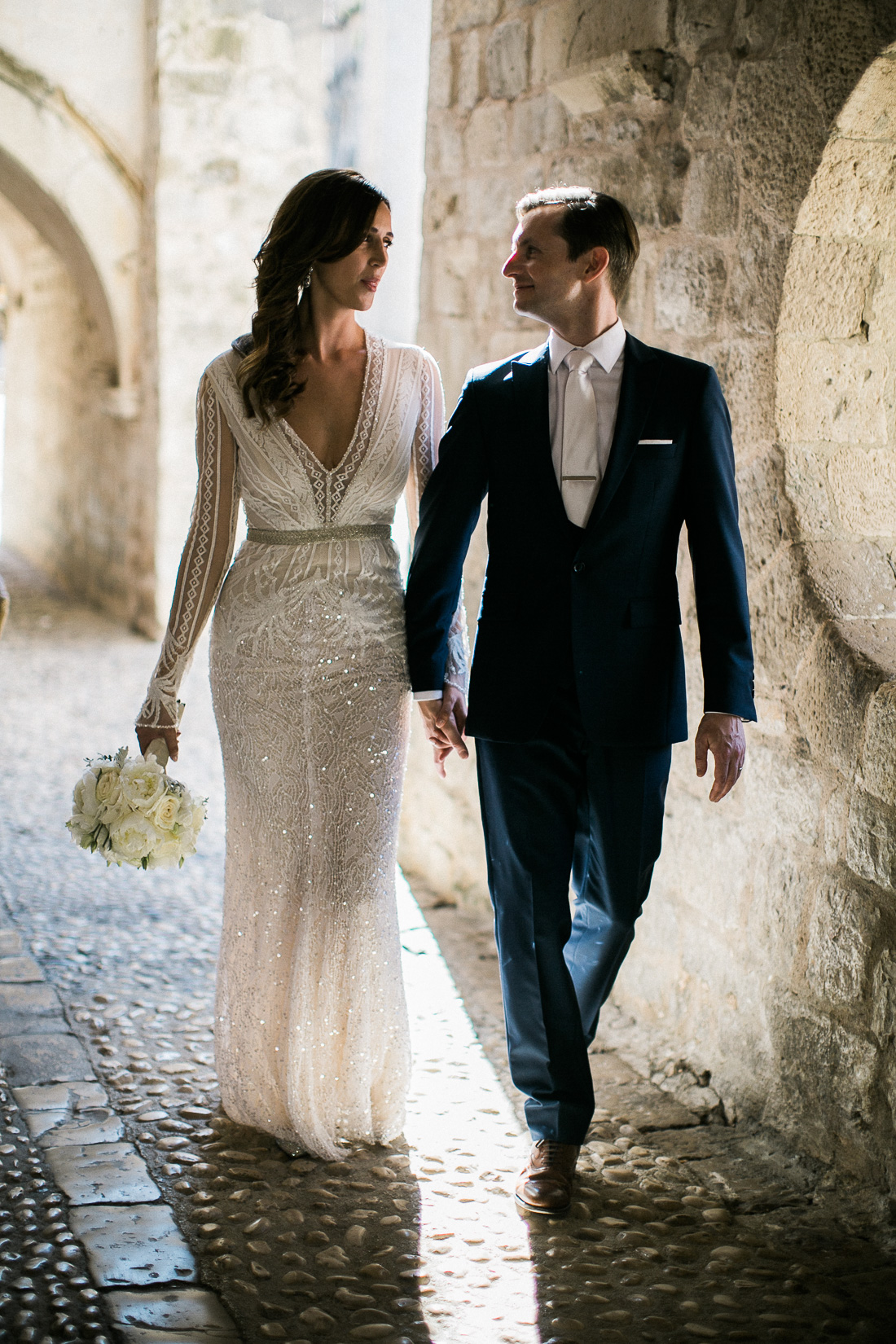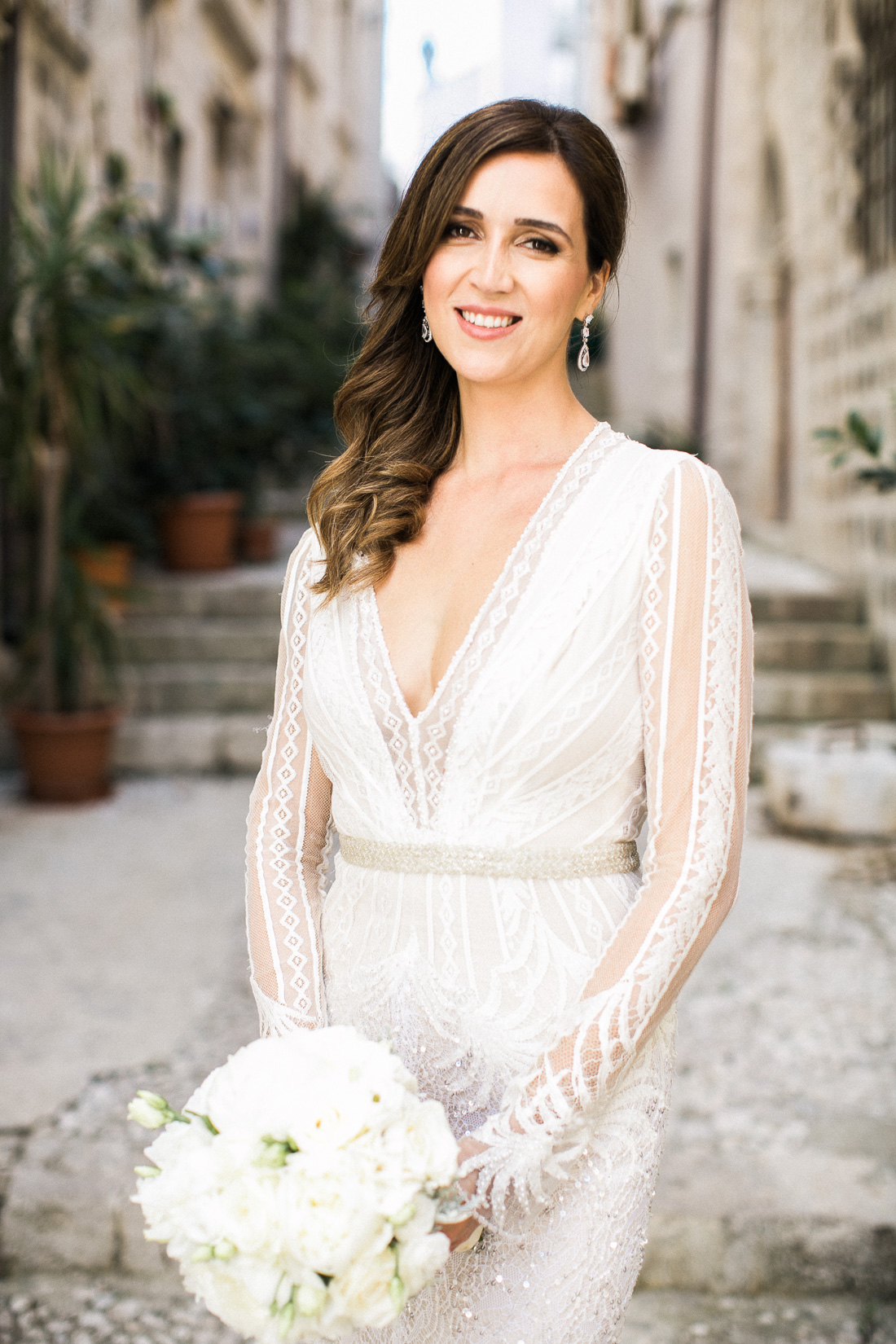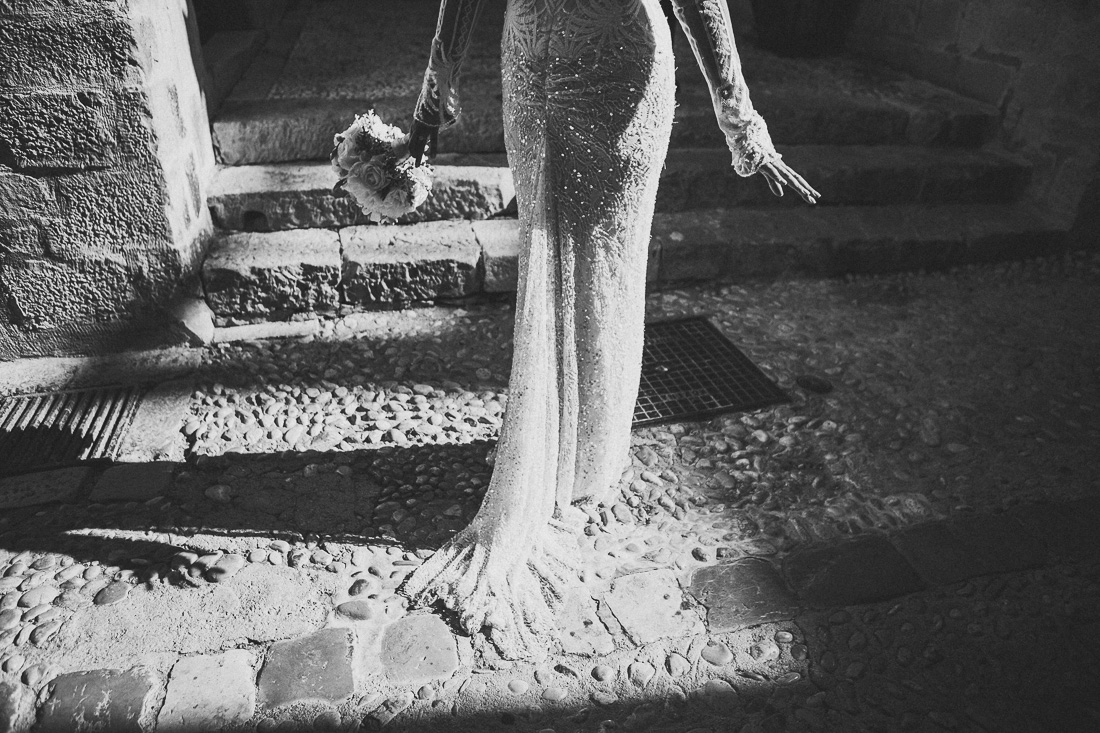 The newlyweds and their guests travelled aboard a traditional Karaka from the ceremony to the reception, soaking up the scenic boat ride with drinks and nibbles and entertained by Trio Laus, a traditional Croatian band. Along with the ceremony, the boat trip was Nataly's favourite moment of her day.
"Standing next to Stuart once I'd walked down the aisle was amazing – I was so nervous before that but felt so much calmer once I was stood next to him. Then getting on the boat after the ceremony – this is where I finally felt completely relaxed; hanging out with my mum, dad, brother and his family on the boat where I could see how happy they all were."